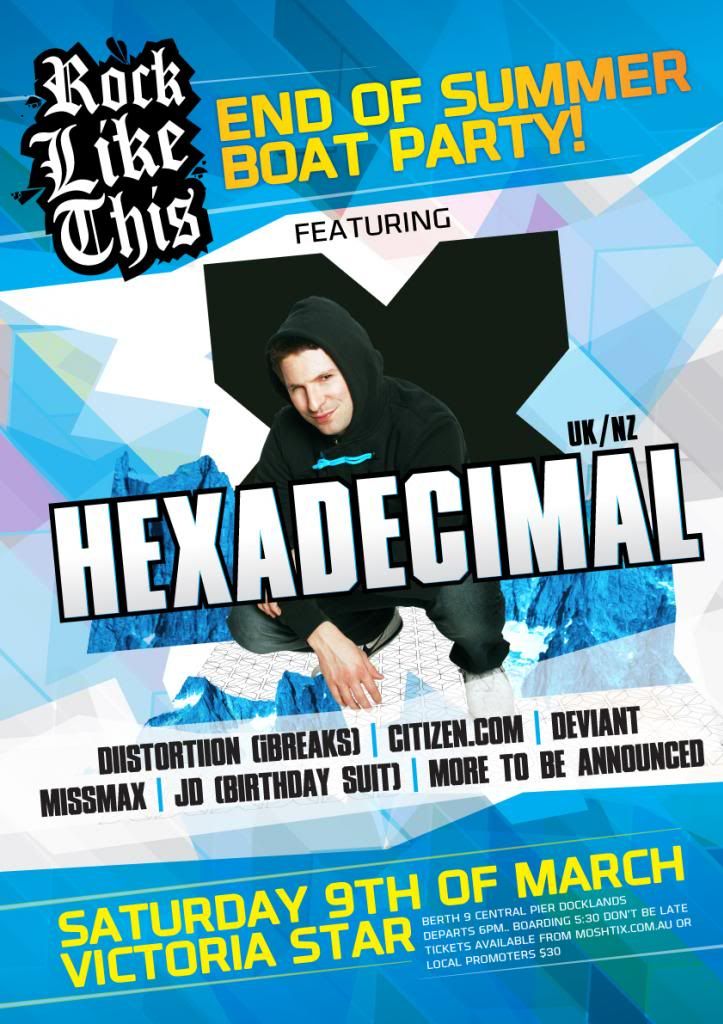 Rock Like This end of summer boat party!
feat..
HEXADECIMAL (UK/NZ)
Diistortiion (iBreaks)
Citizen.com
Deviant
Missmax
JD (birthday suit)
+ more to be announced
Saturday 9th of March
Victoria Star
berth 9 central pier docklands
departs 6pm.. boarding 5:30 DON'T BE LATE
tickets available from moshtix.com.au or local promoters
$30
Hexadecimal
Hexadecimal made his name when his remix featured on James Zabiela's first mix compilation.
He then topped the DJ Magazine chart with 'Brain Machine' and had the opening track feature
on the Plump DJ's much acclaimed Fabric Live Mix CD.
He began his career on the UK dance scene playing many of the countries top club nights and
festivals. Global Gathering, Fabric, Glade, Gatecrasher and Godskitchen are just a few of the
places you could have see him grace the decks. In 2007 he won the international Breakspoll
breakthrough DJ award and went on to present his own mix compilation CD on the front cover
of International DJ Magazine.
Out of the studio his skills as a DJ are renowned. Cuttings it up, effortlessly mixing from one
tune, to another, to the next genre and back without missing a beat. His trickery on the decks
compliments his tune selection. Smashing the speakers with no holds barred selection of beats
and bass that no sound system should ever have been built to handle.
In 2012 he presents a cool and contemporary stance on the breakbeat / bass music continuum.
His second artist album 'Reform / Restore' breathes fresh life and air in his productions
produced around a concept based on his own life experiences. A near fatal car accident, moving
to New Zealand and feeling the full force of mother nature during the 2011 Christchurch
earthquakes. The album features collaborations with stunning Vancouver vocalist Ingrid
Hakanson on 'Cracks' Houston rapper Joe B on 'Boom & bust' and the talents of Dub FX on the
staggering 'Open Your Eyes.
Hexadecimal currently resides in New Zealand where he makes regular DJ appearances
across the country including the legendary kiwi festival Rhythm & Vines in Gisborne in 2012.
Hexadecimal also hosts a fortnightly radio show on 88.6 Radioactive.fm in Wellington;
recordings of his shows can be downloaded via his soundcloud page
http://www.soundcloud.com/hexadecimal