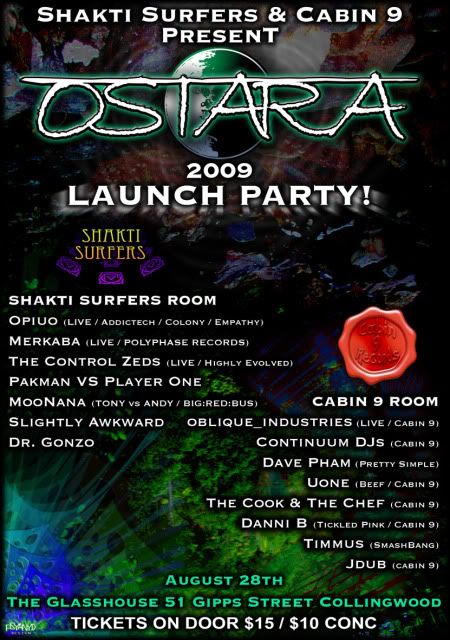 CABIN 9 & SHAKTI SURFERS PRESENT - OSTARA 2009 LAUNCH!!!!
Join us for a night of music and madness as CABIN 9 AND SHAKTI SURFERS delve into sonic delights for the OSTARA LAUNCH PARTY! With 2 Rooms pumpin sweet tunes it shall be an event for all!

When:
Friday August 28th

Where:
The Glasshouse
51 GIPPS STREET
COLLINGWOOD)
CABIN 9 RECORDS ROOM ...
Oblique_industries (LIVE - Cabin 9)
Continuum DJs (Cabin 9)
Dave Pham (Pretty Simple)
U-one (Beef / Cabin 9)
The Cook (Cabin 9)
Danni B (Tickled Pink / Cabin 9)
Timmus (SmashBang)
JDub (Cabin 9)
SHAKTI SURFERS ROOM:
Merkaba (LIVE - Polyphase Recs)
OPIUO (LIVE - Addictech/ Colony/ Empathy)
The Control Zeds (LIVE - Voice Of Cod/ Highly Evolved Music)
MooNana (Tony Loucas VS Andycan - BIG:RED:BUS)
Player One VS Pakman
Slightly Awkward (Ostara)
DR. GonZo
ALL PROCEEDS FROM THE LAUNCH PARTY TO GO TOWARDS FUNDING OSTARA FESTIVAL 2009!