Ok so mark the 24th of sept peoples!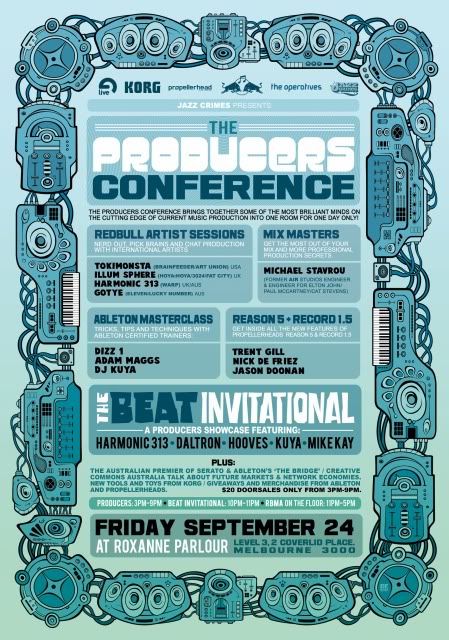 The Producers Conference: 3pm to 9pm
Calling all producers, musicians, audio nerds, speaker tweakers and beat freakers. Jazz Crimes and The Operatives in association with Ableton Live, Propellerheads, Korg and Red Bull Music are proud to present:
The Producers Conference
24/09/2010 Roxanne Parlour, Melbourne, Australia
The Producers Conference brings together some of the most brilliant minds on the cutting edge of current music production into one room for a one day only. Exclusive product demonstrations, masterclasses, tutorials, tips, tricks and informal RBMAstyled Q & A with international artists: TOKIMONSTA (Brainfeeder/USA), ILLUM SPHERE (Hoya:Hoya/UK), HARMONIC 313 (Warp/UK), GOTYE (Eleven/Lucky Number/AUS).
Mix Masters Get the most out of your mix, improve your monitor setup, tweak your time based effects and more professional production and mixing secrets with master engineer Michael Stavrou (Former AIR Studios engineer and Author of Mixing With Your Mind, Engineer for Elton John/Paul McCartney/Cat Stevens).
Ableton Masterclass Tricks, tips and techniques with Ableton Certified Trainers: DIZZ1, Adam Maggs and DJ Kuya. Get inside all the new features of Propellerheads Reason 5 and Record 1.5 with Product Specialists and Endorsed Artists: Trent Gill, Nick de Friez and Jason Doonan.
Plus the much anticipated Australian Premier of The Bridge by Ableton x Serato and it's highly anticipated features. Join Elliot Bledsloe – Creative Commons Project Officer talks about Copyright & Licensing in an Online World, future markets and networked economies.
Finally Chris Steller from Korg Australia shows off the new toys and tools from Korg. Plus - Give away's and merchandise from Ableton and Propellerheads, discounted sales of Mixing With Your mind & book signings with Stav, and more!!!
$20 Door Sales Only @ 3pm – 9pm Roxanne Parlour, Level 3, 2 Coverlid Place, Melbourne.
More info very shortly on this, looking to be massive with Masterclasses on abelton, recycle, reason, major talks by world reknowned sound engineers, big big product launch!!!
The Beat Invitational: 9pm doors open
If you guys have been to the last few you would have seen the amazing beats showcased by some of the most talented individuals in Melbourne. This round sees, DJ Kuya, Mike Kay, Daltron Beats, Hooves and Harmonic 313 representing some of the freshest sounds!!! Support from JPS
RBMA presents On the Floor Feat. Martyn, Tokimonsta, Illum Sphere and Mark Pritchard
Continuing its mission to bring together the best cutting edge electronic musicians in the world, the Red Bull Music Academy is mounting a triple-header tour that brings a bass heavy assault, combining three of the word's biggest and rising names. MARTYN, ILLUM SPHERE and TOKIMONSTA.
Each year since 1998, the Red Bull Music Academy has been pulling together pioneers of days gone by, musical legends of tomorrow and carefully selec...ted participants from all aspects of rhythm and sound from around the world to check gear, play clubs, swap musical visions, discover secrets, attend lectures and collaborate in studio sessions. And each year attendees and lecturers from previous terms travel the world to spread the RBMA gospel and share the music created and fostered at the Academy.
The 2010 RBMA tour brings the absolute bleeding edge of modern bass music to Melbourne for the first time ever.
MARTYN is the senior artist of the trio. With a sound that has become emblematic for all that's forward thinking in dubstep Martyn pushes a defiant out-of-the-box mentality into his every artistic venture, scorning genre convention and relentlessly embracing the new. Drawing on techno and house as much as a still fertile Dubstep scene it's no surprise that the Dutch DJ, producer and 3024 labelboss was drafted to mix the landmark 50th entry in Fabric London's esteemed mix series.
Described as 'one of the most special and unique artists to come out of the UK' by Hyperdub first lady Ikonika, Manchester's ILLUM SPHERE exploded off the back of his 'The Incoming EP' and is only the second English person to play at LA's pivotal Low End Theory night. Add to that the gleaming praise from the likes of Thom Yorke, Mary-Anne-Hobbs, Benji B and the Brainfeeder crew, it's no wonder he has already become one of the UK's most hotly tipped producers.
LA's TOKIMONSTA is the first lady of the Brainfeeder crew. After being highly recommended by Flying Lotus, Mary Anne Hobbs immediately featured an exclusive mix of TOKiMONSTA tracks on her BBC Radio 1 program. She has been praised by the very best in avant-garde hip hop and electronica for her ability to fuse vintage styles with progressive sounds into something unique. Her live shows are exciting as well as intricate and fiercly energetic, using a laptop and other pieces of multimedia gear.
As if that wasn't enough, The RBMA tour will add some extra heat with support from MARK PRITCHARD aka HARMONIC 313 and local 'best kept sectret' MARTIN L.
MARK PRITCHARD is no stranger to Melbourne audiences, having graced us with his forward thinking, deeply emotional and twisted sounds on many occasions. Mark has that uncanny ability to get direct to the musical source. Over the years he has sculpted finely-crafted statements of sonic intent, from pioneering electronic music as Link, to evocative club tracks under Jedi Knights, Reload, and Global Communications, to hip hop stylings as Troubleman and Harmonic 33 and most recently the hugely successful Warp signed Harmonic 313 .
GALAPAGOOSE
Melbourne's very own monome expert will showcase a live set of some of the most amazing beats that is quickly gaining international repute. Chopped up beats, samples and sounds providing a landscape of an unexplored musical territory that undoubtedly takes you on a journey into a musical haven, one you will want to get lost in....
MARTIN L has been spending the greater part of two decades displaying his extra sensory skills behind turntables. With a history stretching back to Perth's thriving techno scene of the 90s, and a music knowledge spanning dusty vintage sounds, Dilla-esque hip hop and especially left of centre beats and dubstep, Martin has been labelled an underground crowd favourite and is given the ultimate title of the 'DJ's DJ' for his impossible mixing and fathoms-deep crates.
Friday 24th September
Roxanne Parlour, 2 Coverlid Place Melbourne
9pm onwards
Cost: $15 pre-sale / $20 on door
available at:
http://www.moshtix.com.au/event.aspx?id ... ef=moshtix