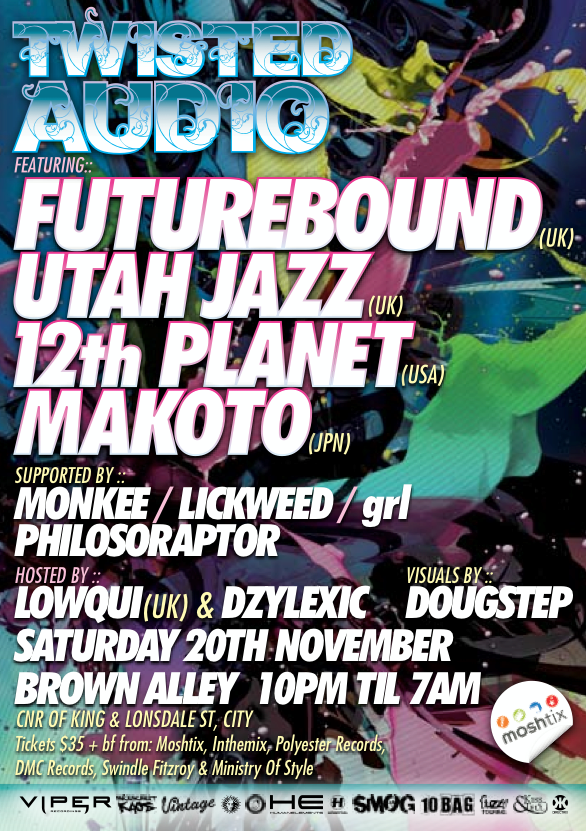 Twisted Audio is brining you another massive lineup featuring:
12th Planet (Smog, US)
Futurebound (Viper Recordings, UK)
Utah Jazz (Liquid V, Hospital Records, UK)
Makoto (Human Elements, JPN)
20th of November @ Brown Alley, 10pm till 7am
Tickets $35+bf from:
ALL MOSHTIX OUTLETS /
http://www.moshtix.com.au
/ 1300 GET TIX
DMC RECORDS
POLYESTER RECORDS
Swindle Fitzroy
MINISTRY OF STYLE
Futurebound
Born and bred in Liverpool, the cultural and musical epicentre of the North of England, Futurebounds route to the top of his profession reads like a concise history of dance music. After the first illegal raves he attended in 1989, Futurebound went onto pursue his passion for dance music, with DJs such as Fabio, Grooverider, Mickey Finn & Top Buzz serving as early influences.
From this, Futurebound secured a home town residency in 1991, warming up for the likes of Carl Cox, Grooverider and Sasha, his first real break into DJing. Steadily the emerging influence of breakbeats grew on Futurebound, leading him to book names such as LTJ Bukem, Goldie, Ray Keith and 4 Hero for his own parties in the early nineties, and later lead him to start the notorious X events in 1999, some of which still rank as some of most important parties in Liverpools clubbing history.
Utah Jazz
The electric versatility of his soulful dancefloor style has made Luke Wilson one of the most sought-after DJs on the international stage. Mixing anything from 1993 LTJ Bukem classics to the latest Sub Focus banger, Utah Jazz is a party-bringer like no other, with one-off dubplates, three-deck mixes and old-skool razzledazzle bursting from his bag of tricks. And now, from the man responsible for some of the finest liquid-funk in drum & bass history, comes a brand new LP of original dancefloor gold…
Makoto
Makoto first signed with LTJ Bukem's legendary Good Looking Records back in 1999.
Since then he has gone from strength to strength, releasing a long string of quality music in the form of singles and EP's, but also on the famous 'Earth' and 'Progression Sessions' compilation albums. 2003 saw the release of his much anticipated debut album 'Human Elements'this album was widely praised as the transition of 70's Soul into the 21st century. also "Progression Sessions Japan Live 2003" with Deeizm, recorded live from Space Lab Yellow in Tokyo was an absolute gem.
12th Planet
Like the mythological 12th Planet (popularized by controversial author Zecharia Sitchin), our 12th Planet flies perpendicular to the system. His beats are off axis and his subsonic frequencies send you into your own orbit. America's first king of dubstep is ready for impact.
Local Support by:
Monkee, Lickweed, Philosoraptor & grl
Hosted by:
MC Lowqui (UK) + Dyzlexic CM
Visuals by:
Dougstep