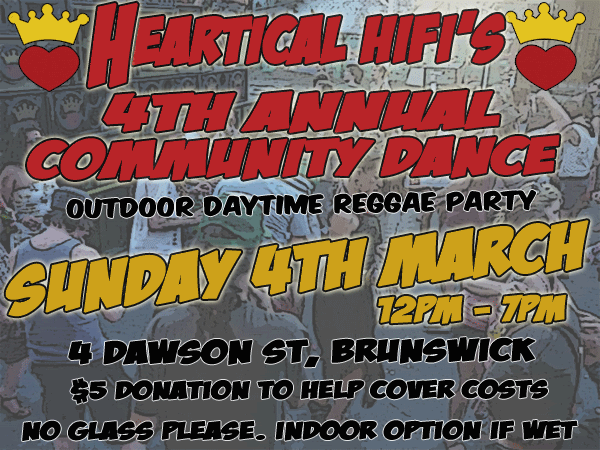 The Heartical HiFi crew are ready to once again play for the people at the fourth annual community reggae dance. Get ready for a daytime, outdoor party with Melbourne's original cultural soundsytem to bring the vibes while playing classic reggae revive, roots and dub on a big sound. Please reach early and enjoy a full day of great music. If weather is poor we will move the event indoors. All tribes welcome.
SUNDAY 4 MARCH 12pm - 7pm
St Ambrose Hall Car Park. , 4 Dawson St, Brunswick. Off Sydney Rd, Brunswick, Melbourne
Conditions of entry:
> Entry is free, though we ask each to donate $5 to help cover our costs.
> NO glass bottles
> Take your rubbish with you when you leave
> Music will play between 12pm and 7pm only. Don't turn up at 6.50
expecting us to play for longer.
> Your best upfull behaviour.
If you would like to volunteer to hep with the running of this event then please get in touch.