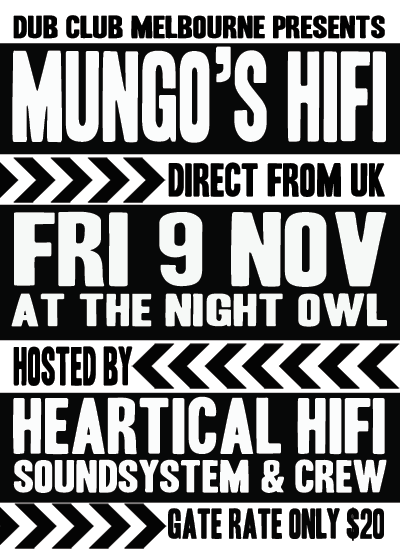 Dub Club Melbourne proudly presents Mungos HiFi (UK) live and direct alongside Melbourne's original heavyweight custom built soundsystem and crew - Heartical HiFi at The Night Owl.
Mungo's Hi-Fi are a dub reggae, dancehall and dubstep soundsystem in the original roots tradition based in Glasgow. Tom Tattersall, Douglas Paine and Craig Macleod debuted in 2001 with Wickedness feat Brother Culture on London's Dubhead label, taking the dub world by storm and getting heavy plays from Jah Shaka and Iration Stepp
as...
The group broke through into dubstep proper with the inclusion of the Mungo's HiFi track "Babylon" on Appleblim's Dubstep Allstars: Vol.06 in late 2008. In January 2009 the crew released this track on vinyl as the first release on their new dubstep imprint, Scrub A Dub.
Mungo's Hi-Fi have received attention from DJs such as Mr Scruff, Andy Weatherall, and the late great John Peel, who have all championed their sound. Mr Scruff went on to include Mungo's Hi Fi's "Ing" on his 2005 Keep it Solid Steel mix released on Ninja Tune. After three outings on the Dubhead label including their 2002 album, Mungo's Hi-Fi meets Brother Culture, they set up their own imprint in 2005 — Scotch Bonnet Records. In 2008 the Mungo's crew released their first long player on the Scotch Bonnet label, Mungo's Hi Fi – Sound System Champions, which is an ensemble album featuring an onslaught of world class MCs & singers (Ranking Joe, Top Cat, Tippa Irie, Kenny Knots and more).
The recordings are made in a purpose built studio powered by the same enormous, homebuilt sound system. as their live performances, pushing their productions continuously past reggae boundaries into new frontiers.
Mungo's Hi-Fi hold a monthly residency at the Glasgow School of Art, and have been running their legendary Dub and Grub nights weekly for eight years. They regularly tour Europe and the festival circuit.
MUNGOS HIFI >> SAT 9 NOV >> AT NIGHT OWL
DOORS 10pm, $20 at the gate.
http://www.mungoshifi.net/