Hey, mates — and those of you who might be fellow sequential art buffs...
I'm rebooting my first novel
Tobacco-Stained Mountain Goat
, which was a Book of the Month @
Chuck Palahniuk
's The Cult in 2011.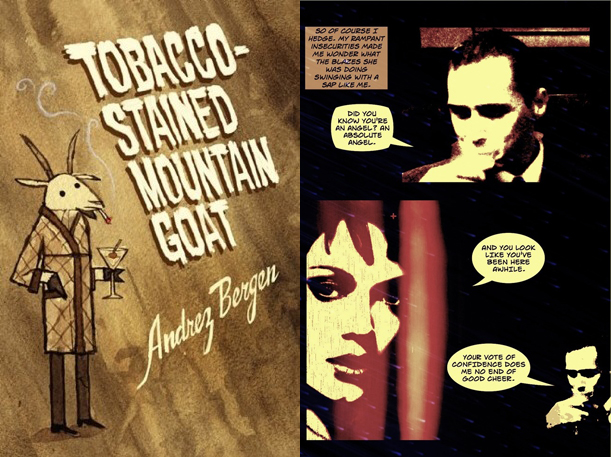 It's basically an homage to noir/hardboiled fiction set in a near-future dystopia... set in Melbourne.
This time I've decided to tackle the thing head-on as a graphic novel, for which I'm doing the artwork as well as rejigging the story/dialogue plus inserting some plot extras. And I've almost finished.
To remain independent and thereby have free rein over development of the brute, we decided to apply for funding via
KICKSTARTER
... and luckily? It reaching the set plateau and was funded! There're some amazingly cool cats out there.
Anyway, we're currently looking to increase both page-number and the colouring of those pages (from 50% to 75%), so looking for a wee bit of additional $ — if anyone is curious, come take a squiz:
TOBACCO-STAINED MOUNTAIN GOAT
https://www.kickstarter.com/projects/754267967/tobacco-stained-mountain-goat-the-graphic-novel
25 days to go.
This is the mock-up front cover art:
Cheers,
Andrez